What is the best way for me to experience
Smart Money Smart Kids?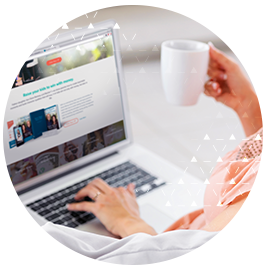 Self-Study
Perfect for parents with busy schedules! Your membership includes complete online access to the lessons and resources-everything you need to learn in the convenience of your home! Get started as soon as you receive your materials.
Get Your Membership
What will I learn?
You'll learn how to teach your kids the key principles of money by creating teachable moments in your family's everyday routine. You'll learn how to build your kid's character and give them a solid understanding of how money works and how to make wise decisions.
Work and Responsibility
Focuses on the work-money connection, personal responsibility, and how work reflects our relationship with God
Spending and Wisdom
Helps you understand your child's God-given bent and how to lead them to make wise spending decisions
Saving and Patience
Shows you how to encourage delayed gratification and teach your kids to set specific goals for saving
Giving and Generosity
Teaches you how to raise generous children by emphasizing God's ownership and challenging your kids to step out of their comfort zones
Debt and Honesty
Shares the Bible's perspective on debt so you can raise kids who can identify and reject the cultural myths that say debt is normal
Contentment and Gratitude
Protect your kids from the "bigger is better" messages in our culture and encourage an attitude of contentment rooted in humility and gratitude
Try It for Free Today!
Sign up for a free sneak peek to see the first two videos from lesson one!
Try it!
Your Smart Money Smart Kids membership has everything you need to get started!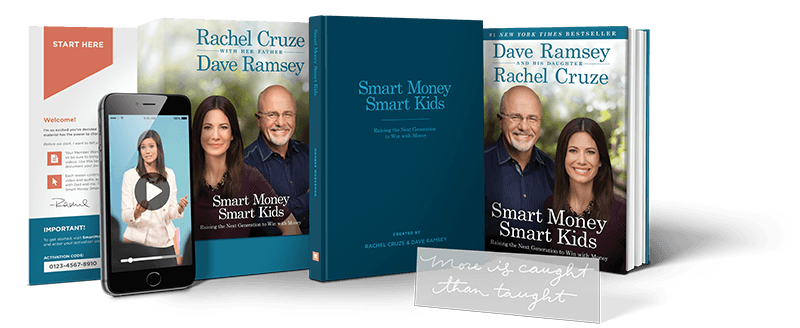 Smart Money Smart Kids Workbook
#1 New York Times best seller Smart Money Smart Kids
"More is caught than taught" vinyl decal
Get Your Membership
Six months of access to learn what you want, when you want!
Principle Teaching Lesson Videos

6 videos

Watch and learn the six principle lessons for raising money-smart kids from Rachel Cruze and Dave Ramsey.
Key Character Quality Videos

6 videos

Each lesson includes a corresponding character quality to help you raise your child to not only be money-smart, but also to learn important life skills along the way.
Deep Dives

24 videos

Rachel and Dave give practical, age-specific applications for three age groups (3-5, 6-13, and 14-college).
A Mom's Perspective

Join Sharon Ramsey as she shares stories from a mom's perspective.
Age Appropriate Activities

Enjoy applying the principles you have learned by doing these activities with your kids! They are fun, easy to implement, and specific to each age group.
Connect with other Parents

Talk to other parents in our commenting section on the lessons, videos, and activities and share ideas, sucesses and challenges in raising smart-money kids.